Over 25 years of research has crafted our range of wholefood probiotics and prebiotic blends. Each blend's ingredients have been hand-picked to suit a specific purpose. Certified organic by Australia's Organic Food Chain (OFC) and 100% natural.
Made without gluten, dairy, GMOs, fillers, and preservatives. You won't find any nasties in our range, just simple, clean wholefoods.
The ingredients in our product have been through a natural, organic fermentation process. Each batch is fermented over 3-4 weeks with our mother culture of plant-based organic bacteria, allowing the foods nutritional content to multiply and provide your gut with bio-available, vitamins, minerals, and amino acids in an absorbable, functional format.
"Made, packaged, labelled and dispatched with love and positive intent so you, the end user, receives this energetic imprint."





Probiotic + prebiotic
14 strains of good bacteria
Batch tested for active CFU
High bio-availability
72 omni minerals
Shelf stable, no refrigeration
Australian made
Our Certified Organic mother-culture—or as we like to call it, super-culture—have been stressed to cold and heat, surviving from 0º to 55ºC. This allows the probiotics to lay dormant within their own food source, making our range is shelf stable and ensuring they make it to the gut ALIVE!
The wholefood ingerdients in our blends have been through a natural fermentation process using the following plant-based organic bacteria:
+ Bifidobacterium Bifidum
+ Lactobacillus Acidophilus
+ Lactobacillus Bulgaricus
+ Lactobacillus Brevis
+ Lactobacillus Caseii
+ Lactobacillus Caucasus
+ Lactobacillus Delbrueckii
+ Lactobacillus Helveticus
+ Lactobacillus Leichmannii
+ Lactobacillus Lactis
+ Lactobacillus Fermenti
+ Lactobacillus Plantarum
+ Saccharomyces Boulardii
+ Saccharomyces Cerevisiae

Our gut should
contain 500 species
and nearly two
kilograms
of healthy bacteria.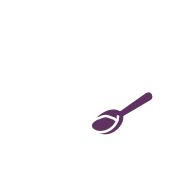 Questions?
Call our Gut Hotline +61 7 554 92 554