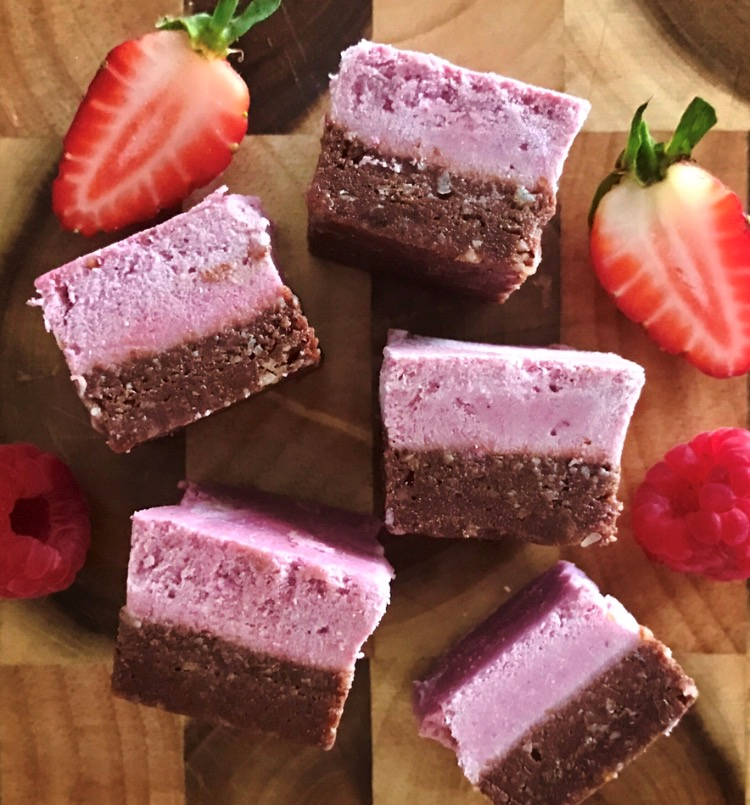 The Australian Christmas is certainly not the traditional cold snowy white covered pavements and mountains, burning wood fireplace and sipping on hot cocoa you'd expect out of the festive season. That only means in place of a mug of hot chocolate we are up for buckets of ice cream and other delicious frozen treats. If your in the process of making your Christmas menu be sure to add these little beauties to the list! Simple & delicious, gluten, grain, refined sugar and dairy free 'Raw Raspberry IceCream Slice'.
For the Base:
1 cup raw cashews
1/4 cup shredded coconut
6 fresh medjool dates
1/3 cup raw cacao powder
3 tbsp unrefined coconut oil
2 tsp of your favourite Nuferm Probiotic
For the Filling:
2 cups frozen raspberries
1/2 cup raw cashews
2 tbsp full fat coconut cream
4 tbsp 100% pure maple syrup
2 tbsp melted unrefined coconut oil
Squeeze of fresh lemon juice
To make these little beauties start by processing all the base ingredients together. Line a small container or baking dish about 20x20cm with baking paper and lightly grease with coconut oil. Press the base mixture into your container using your fingers or a spoon making sure it's relatively even. Set in the freezer while you make the filling.
To make the raspberry layer simply add all the filling ingredients to a high speed blender and process until smooth and creamy. Pour over the base and allow to set in the freezer for 4-6 hrs or overnight. When you are ready to serve take out of freezer and leave on bench for about 5 minutes and cut in squares using a hot knife.