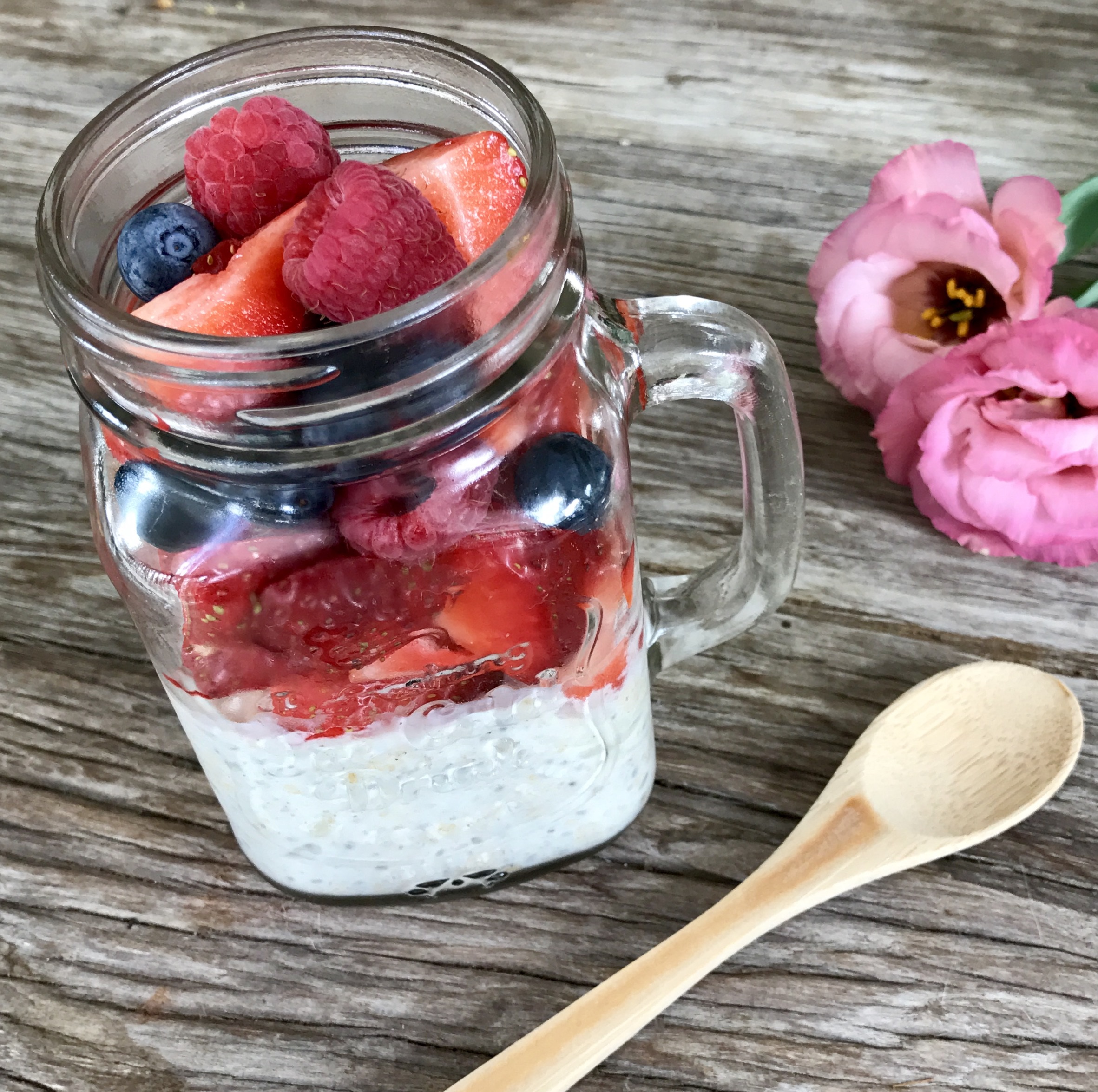 Packing your own healthy food for work can not only save you money in the long run but encourage healthier eating. In my household I own the job as cafeteria lady, preparing all the nutritious lunches for myself & my family. Whole rolled oats are an essential pantry staple, I simply love them! Studies have revealed that oats are known to reduce cholesterol and provides a slow release of energy therefore keeping you fuller for longer!
They are extremely versatile being added into smoothies, baked in healthy goods, made into your favourite porridge or even my favourite summer loving breakfast, Bircher Muesli!
When I used to work in hospitality I was astonished to find that the traditional bircher recipe was made on thickened cream and condensed milk, certainly not a healthy way to start your day!
This bircher muesli recipe is quick & easy to prepare, loaded with protein and good fats from nuts, seeds & full fat whole milk yogurt, complex carbohydrates (the good kind that satisfies your hunger) and fibre rich prunes to keep the bowel regular.
All vital requirements that make for a healthy breakfast! Additionally, the biodynamic yogurt provides a healthy helping of essential gut boosting probiotics.
1/2 cup whole rolled oats
1/2 cup filtered water
1/4 cup all natural plain tub set yoghurt (Coconut yoghurt can be used if dairy intolerance/allergies)
1 green apple grated
6 prunes sun dried prunes chopped
1 tbsp. chia seeds
1 tsp. honey
1/2 tsp. powdered cinnamon
2 tbsp. dried shredded/flaked coconut
Chopped raw nuts and seeds of choice
Choice of fresh fruit to garnish (Berries are a favourite combination)
Choice of your Nuferm Probiotics to garnish
The night before soak your oats in water for half hour till all liquid is absorbed. You can do this whilst you're preparing dinner or getting the kids ready for bed.
Mix in the yoghurt, grated apple, prunes, honey, cinnamon and coconut and combine well. Scoop out into chosen glass jars or container and leave covered in fridge overnight. If you wish you can top with fresh fruit and nuts/seeds on the night or the next morning! Serves 2.
Nutritionally Yours,
Veronica