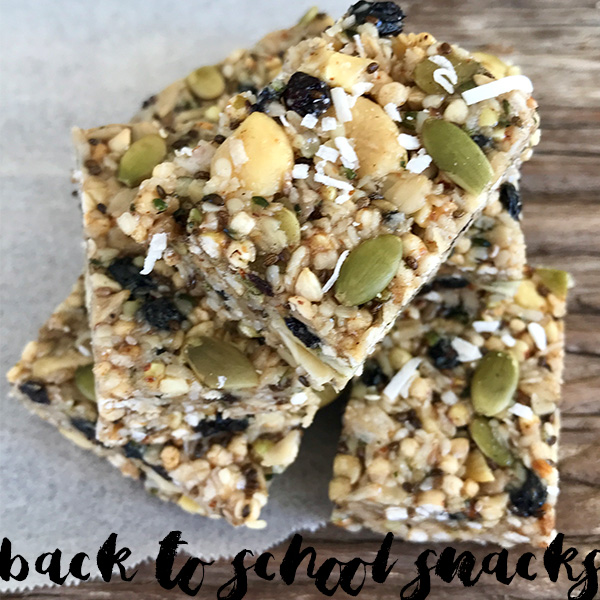 These vegan muesli bars are hearty, chewy, crunchy, full of flavour and wholesome goodness minus all the processed junk you find in those commercial packaged bars. They are a simple to make one bowl recipe and pack a huge nutritious punch when compared to standard store bought muesli bars.
Perfect for a mid-morning/after school snack, desk top work snack or breakfast on the run!
The oats, brown rice puffs and buckwheat groats are body nourishing, high in fibre to support optimal digestive health and much considered nerve supporting foods. The raw seeds, nuts and coconut provide essential fats, protein, and energy (of the slow release kind) to satisfy your hunger. Furthermore, the cinnamon balances out blood sugar levels providing a stable energy flow.
I experimented using maple syrup as a sweetening agent however the mixture was not sticking together therefore I opted for brown rice syrup which I don't use very often but it has a relatively low glycemic index which means it won't spike your blood sugar levels, delivering a constant and consistent energy flow.
1/2 cup whole rolled oats (Be sure to source a gluten free variety)
1/2 cup brown rice puffs
1/2 cup raw buckwheat groats
½ cup raw cashews
1/4 cup shredded coconut
1/4 cup raw sunflower seeds
1/4 cup raw pumpkin seeds
1/4 cup raw hemp seeds
1/4 cup dried blueberries (optional, you could also use naturally sundried cranberries, sultanas or chopped prunes)
2 tbsp sesame seeds
2 tbsp chia seeds
1 tsp powdered cinnamon
1/2 cup raw nut butter (at room temperature)
1/2 cup brown rice syrup
2 tbsp melted unrefined coconut oil
Line a square tin with baking paper and lightly grease with coconut oil spray and set aside. Next add all ingredients to a bowl and mix well until combined (it will become very sticky and hard to mix but it will get there).
Press into a lined tin with a spatula or back of spoon and place in the fridge for 30 minutes or until firm. Lift the square out of the tin, place on cutting board and slice into desired sizes.
Bars store best wrapped individually wrapped in plastic wrap (this also makes it easier to transport) in an airtight container in the fridge for up to 14 days.
Freeze in squares for up to 1 month.