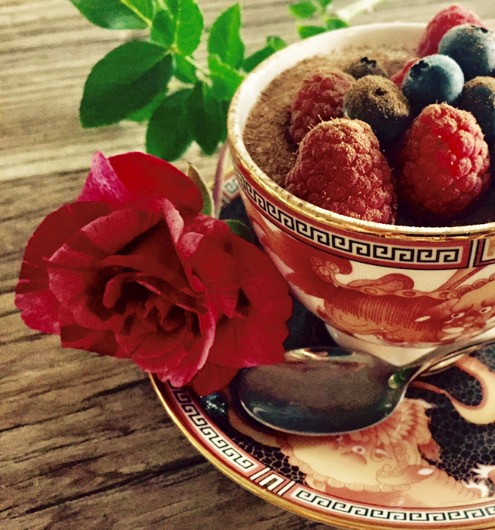 They are the superheroes in our lives, keeping us safe and out of trouble. They are brutally honest when dispensing advice, teaching us valuable lessons when we're growing up like why we should eat our veggies and have a magical 6th sense that knows when something is not right! They are our Mothers and they deserve the title of the world's strongest woman because they've successfully put up with our ups and downs and love us with all their heart! It's fair to say that no one can beat the super powers of mums!
Mothers Day is only a few days away so what better way to show your love than with this scrumptious chocolate treat! And did I mention it was healthy?!? For those who have yet to adopt the avocado & chocolate mousse decadence now is the time! Unusual yes, but this creamy, rich and sinfully silky Willy Wonka style chocolate dessert is super quick & simple to prepare. Traditionally made using cream, eggs and solid chocolate, this indulgent healthy sweet treat will satisfy your sweet tooth without the guilt! And whilst mum is enjoying lashings of her nourishing mousse you can share with her the health benefits of the humble avocado!
?Good source of dietary fibre which helps to feed friendly gut bacteria & maintaining fullness & assisting in weight loss.
?Rich in potassium to support healthy blood pressure
?Heart healthy; reducing total cholesterol levels & arterial inflammation
?Rich in vitamin E, a rich antioxidant that protects cell membranes and prevents cellular damage.
1 ripe avocado
1 ripe banana
2 heaped tbsp. raw cacao/unsweetened cocoa powder
1/2 tsp. 100% pure vanilla essence (optional)
2-3 tbsp 100% pure maple syrup
add a tsp of your choice of Nuferm Probiotics in the mix ? Yum Yum ❤️
Blitz all ingredients in a high speed blender or food processor until silky smooth. Garnish with fresh berries. Serves 2.
Nutritionally Yours,
Veronica