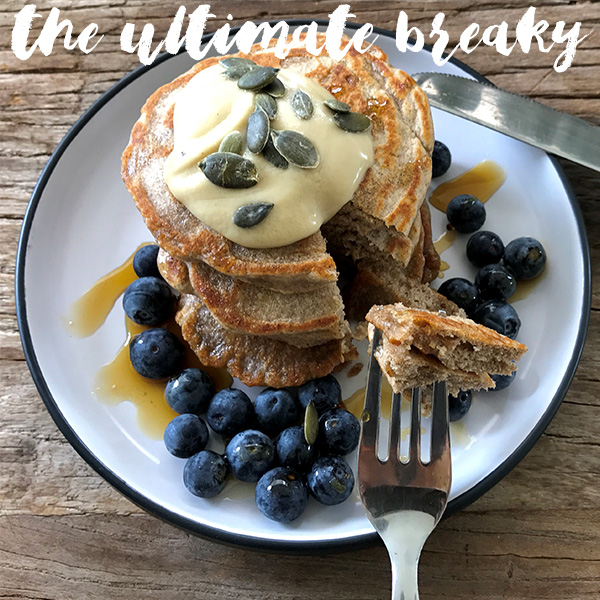 For a while now I've noticed a craze of buckwheat pancakes streaming through health cafes and recipes adorning social media. So what is this mysterious 'buckwheat' and why are we so crazy for it? You'd be fooled into thinking with a name such as buckwheat it's from the wheat family, when in fact it's a fruit seed closely related to rhubarb.
This makes buckwheat perfect for those who are wheat sensitive. This ancient grain is world renowned for its nutty taste and can readily be sourced in 2 forms; whole kernels or milled flour. The milled flour is readily used in baked goods with the most popular being pancakes!
Nutritionally buckwheat contains more fibre than oats for digestive health, concentrated sources of minerals copper and zinc required for tissue repair, red blood cell production and enhancing immunity. Furthermore, buckwheat contains sufficient amounts of amino acids (the building blocks of protein), good fats and carbohydrates. Buckwheat has also gained a reputation for regulating blood sugar levels providing you with more sustained energy and keeping you fuller for longer, making it a perfect breakfast food.
1/2 cup buckwheat flour
1/2 cup brown rice flour
2 tsp aluminium free baking powder
1 free range egg
1 cup coconut milk/almond milk
Unrefined coconut oil for cooking
Maple syrup and fresh fruit to serve
Sift and mix all dry ingredients together in a bowl.
Add egg and milk and blend together using a whisk. Add more milk if mixture is dry, this really depends on the brand of buckwheat flour used. If you pressed for time in the morning the mixture can be made the night before and rested in the fridge. The next morning however you may need to add a splash more milk alternative as it will thicken in the fridge. Preheat fry pan and grease lightly with coconut oil. Pan is ready when small drops of the mixture begin to sizzle. Pour a heaped tablespoons of batter onto the hot pan, cooking for approximately 1 minute, turning once bubbles appear on the surface. Continue cooking for another minute. Serve with your favourite pancake sides.