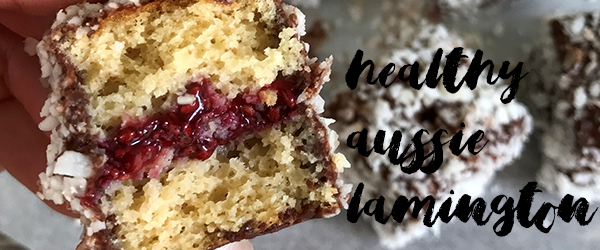 Fancy a lamington without the gluten, wheat, dairy and refined sugar? Well feast your eyes on these little beauties my foodie friends, raspberry filling and all! This Aussie favourite is about to get a healthy make over!
SPONGE CAKE 
3 free range eggs
2 tbsp. maple syrup
1 tsp. 100% pure vanilla essence
30ml melted unrefined coconut oil
1/4 cup sifted coconut flour
1 tsp sifted aluminium baking powder
RASPBERRY CHIA JAM
1 cup frozen raspberries
2 tbsp. 100% maple syrup
Squeeze lemon juice
2 tbsp. chia seeds
CHOC COATING
1/4 cup unsweetened cocoa powder
1/4 cup unrefined coconut oil
2 tbsp. 100% pure maple syrup
Shredded/desiccated coconut for rolling
Preheat oven to 160 degrees and grease a small baking tin (Loaf tin is perfect for this). Using an electric mixer beat eggs, maple syrup and vanilla together for 10 minutes until thick and creamy. Add in the melted coconut oil whilst the eggs are beating just until well combined. Gently fold in sifted coconut flour and baking powder. Pour into tin and bake for 25-30 minutes or until skewer comes out clean. Leave to cool in dish for 30 minutes then turn out (the cake mixture will be slighter denser than a regular sponge). Cut into squares and slit in half.
To make the jam bring the raspberries and maple syrup to a simmer and reduce until slightly thickened. Turn off heat and add a squeeze of lemon juice and chia seeds. Stir well and leave to sit until the chia seeds thicken the mixture. Leave to cool completely.
To make the choc coating whisk together the coconut oil, cocoa powder and maple syrup in a pot over low heat until coconut oil is melted. Allow to cool. When you're ready to assemble simply fill one side of a sponge square with chia jam and pop on a sponge lid pressing down slightly. I find it easier to poke a skewer through the entire sponge square to coat it in the chocolate mixture then roll it in coconut. Sit on baking paper and allow to set in the fridge.