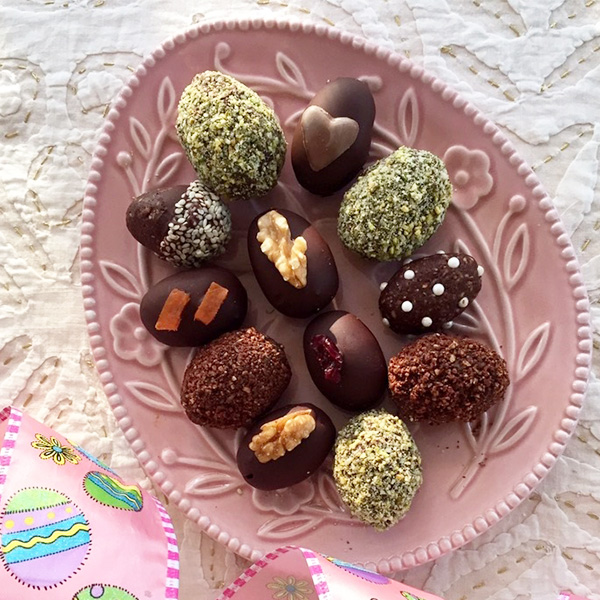 Put an Easter spin on the traditional bliss ball with these healthy & delicious chocolate eggs. Choc orange bliss balls formed into the sweetest egg shaped morsels dunked in dark chocolate and adorned with extra decadent toppings what more could you want at Easter?
What I love about bliss balls is you can make them any flavour you wish and these little beauties I whipped pack an all almighty orange punch. Oranges are not just loaded with vitamin C, the zest actually provides numerous health benefits.
Orange zest has the potential to reduce the incidence of heart disease, inflammation, tonifying the skin when applied to facial scrubs, assists in alleviating heartburn and cleanses the lungs. So lets get rollin….
1/2 cup shredded coconut
1 cup raw almonds (preferably soaked overnight then drained)
2 heaped tbsp. raw cacao powder
6 fresh dates soaked in boiling water for 10 minutes
1 tsp. 100% pure vanilla extract
Zest of 1 orange
Juice of 1 orange
80% dark chocolate melted
Extra toppings: Chopped raw nuts, seeds, 100% natural dried fruit, shredded coconut, sesame seeds are just a few tasty examples!
Blend all ingredients together in a food processor until combined. Mixture maybe a little sticky. Depends how big you want them but I've managed to mould out 14 larger sized eggs. For extra decadence I've dunked them in dark chocolate and covered with my favourite toppings. Refrigerate for 2 weeks or freeze for several months.
HAPPY EASTER EVERY BUNNY!
Nutritionally Yours,
Veronica