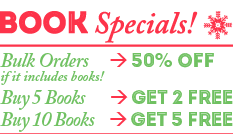 Do you love as much as we do curling up on the couch, surrounded by comfy cushions with a glass of something special and getting lost in a great book?!  Shut the world out for a while.  Well if you do we have the offer for you!
Purchase 10 Books and get 5 free OR purchase 5 books and get 2 free!
How many people these days could do with a boost of information that could improve their health? You may know that we are not what we eat, but how many of your acquaintances know that we are only what we absorb?
My book Have You Got The Guts To Be Really Healthy? not only covers this but also the myths the food myths we have been led to believe are good for us, when in truth they are detrimental to our very existence.
What about a product that you use that could benefit someone else? One year a grandmother purchased 19 probiotic products (20/12 blend) to give to all her grandchildren.
Could a gift of Green Barley, Organic Women, or Mineral Drink be the perfect gift to a loved one this year? Huge discounts if you purchase a gift for a friend.
Make your own discounted combination by ringing us on (07) 5549 2554
And save up to 40%