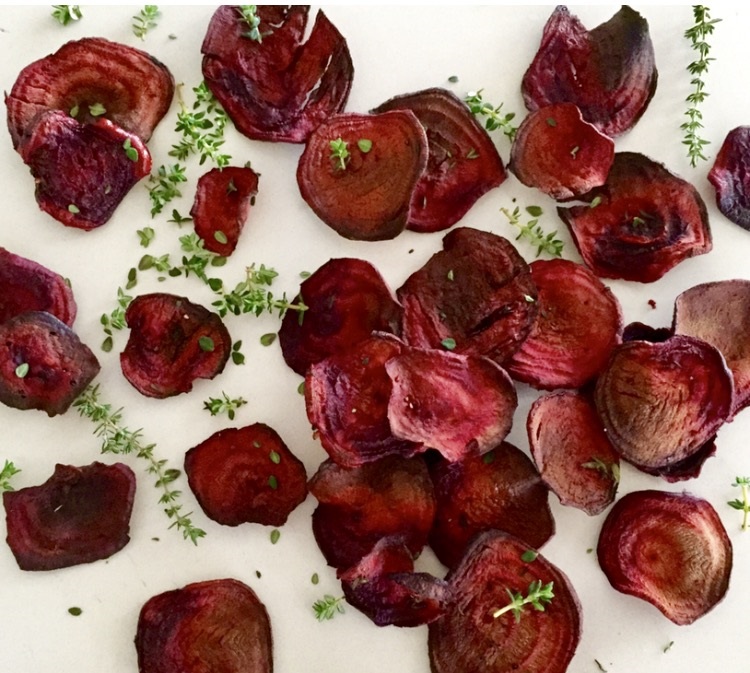 Want something…..
Healthy
Crisp
Simple
Flavoursome
And perfect for snacking
Homemade Beetroot chips are simply amazing! Beetroot is an excellent blood purifier, strengthening and oxygenating your blood and lowering elevated blood pressure! Beets are also high in iron essential for combating fatigue, in addition to providing valuable quantities of vitamin A, B6, C, K, magnesium & folic acid.
3 medium beetroots, rinsed and scrubbed well
100% pure olive oil
Sea salt
Cracked black pepper
2-3 sprigs fresh thyme
Pinch of your favourite Nuferm Probiotic Blend
Preheat oven to 200 degrees, line 2 large baking trays with paper and lightly grease. Thinly slice beetroots with a mandolin or a sharp knife making them as consistently thin as possible. This will ensure even baking and crispiness. Add Beetroot slices to a bowl along with a good pinch of salt, pepper, fresh thyme, drizzle of olive oil and toss to coat. Arrange in a single layer on the baking trays, making sure the slices aren't touching. Bake for 15-20 minutes or until crispy and slightly brown. Be sure to watch them closely past the 10 minute mark as they can easily burn.
Remove from oven, let cool, sprinkle with extra thyme and your favourite probiotic blend and enjoy!
Nutritionally Yours,
Veronica