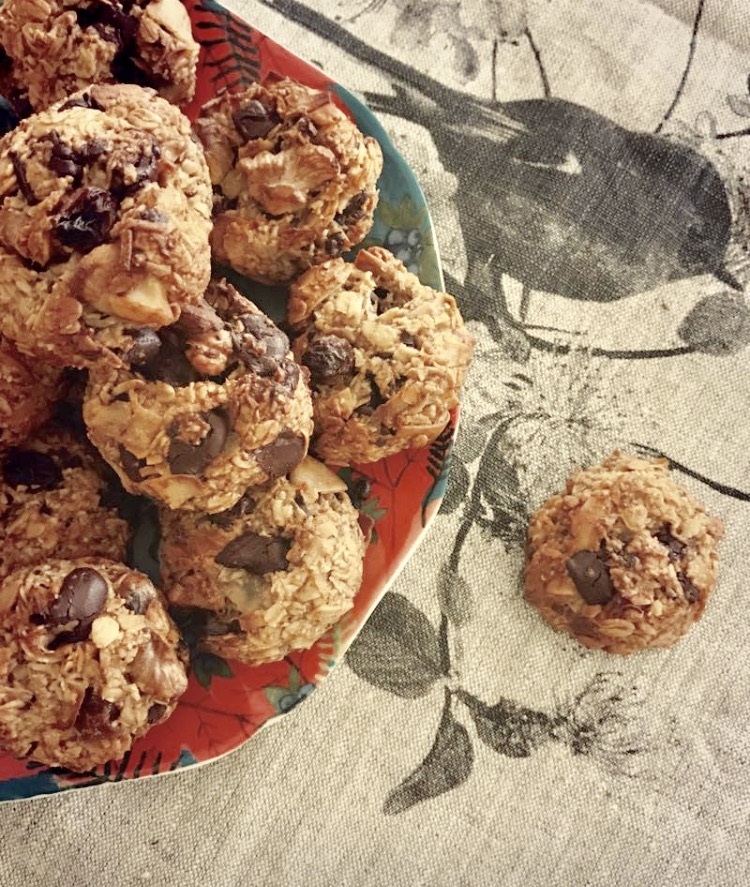 In my house the kitchen isn't always a work station but a place for play! Sadly in many households though it can be a place perceived more stressful rather than a nourishing environment! It's important that children are not afraid of the kitchen, cooking shouldn't be a chore, it should be about embracing their inner chef and food scientist, expressing ones artistic creativity and fun no matter how much of a disaster it turns out! I once put a load of cayenne pepper into a dish instead of paprika, it was totally inedible but it was a good lesson and a great laugh!
When cooking with kids it's important to keep things simple and quick as boredom can be reached easily. My go to recipe when working with children is these delectable cookies, they must be the easiest and tasty morsels around! The ingredients are totally interchangeable, adding whatever flavours you like, they are ready and rolled in minutes and baked to a soft perfection! Additionally, the star ingredients bananas and oats are highly nutritious for kids, packed full of fibre for a healthy digestive system and B vitamins for sustained energy.
1 large ripened mashed banana
3/4 cup gluten free whole rolled oats
1/4 cup shredded coconut
1 tsp of Probiotic for Kids or your choice of Probiotic
Additional goodies of choice can include dark chocolate chips, naturally sun dried sultanas and chopped prunes, splash of 100% pure vanilla extract, chopped raw nuts and seeds even cacao nibs instead of chocolate to make them dairy free!
Preheat oven to 180 degrees and line a baking tray with paper. Simply add all ingredients into a bowl and mix to combine well. Take approx. 1 heaped tablespoon of mixture and roll into a ball and place on baking tray. Press down slightly. Bake for about 10-15 minutes or until lightly golden on the outsides and bottom. Allow to cool for at least 10 minutes on a cooling rack to rest and they will harden slightly. Left overs will store in the fridge in a air tight container for several days. You can also freeze these little beauties for 1 month in an airtight container or freezer bag.
Now sit back and enjoy a cookie or two!
Nutritionally Yours,
Veronica