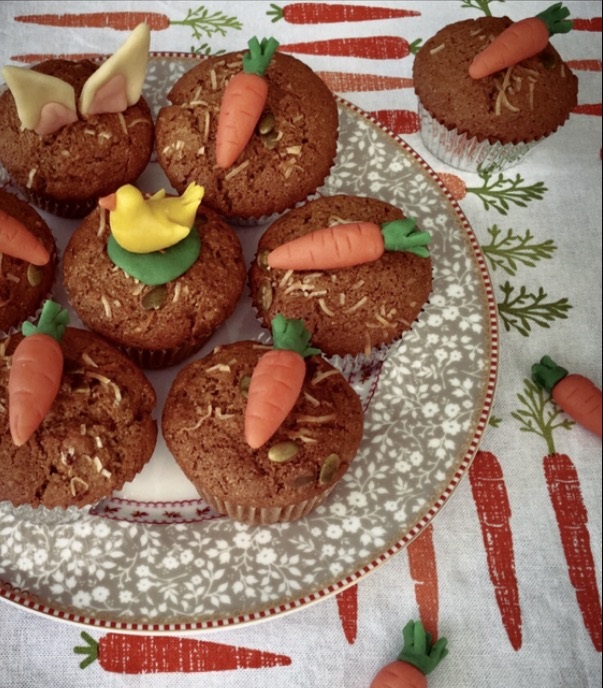 Carrots gain nutritional praise for their rich content of beta carotene, which is then converted to vitamin A and beneficial to the body in many ways. Carrots are also an excellent source of fibre essential for digestive health, vitamin C, K and potassium to promote strong bones and strengthen the immune system. When consumed as part of a healthy eating regime, carrots can also aid in the prevention of eye related diseases, improving vision and maintaining heathy structure and function of the eyes.
These muffins are incredibly moist on the inside, crunchy on the outside and packed with the carroty goodness!
2 carrots peeled and grated
1/4 cup raw walnut pieces
1 cup wholemeal spelt flour
1/2 cup brown rice flour
1 tsp. baking soda
1 tsp. aluminium free baking powder
1 tsp. powdered cinnamon
1/4 cup coconut sugar
1/2 cup rice bran oil
1/4 cup maple syrup
3 eggs
1 tsp. 100% pure vanilla extract
Preheat the oven to 180 degrees and line a muffin tin with papers. In one bowl sift together all dry ingredients. In another bowl whisk together all wet ingredients. Stir the grated carrots and walnuts into the wet mixture and combine well. Spoon into the muffin tin. I've topped mine with a sprinkling of pumpkin seeds and coconut shreds. Bake for 25-30 minutes or until golden brown and skewer comes out clean. Allow to cool. Makes 12. These muffins are totally freeze able for up to 3 months!
Nutritionally yours,
Veronica