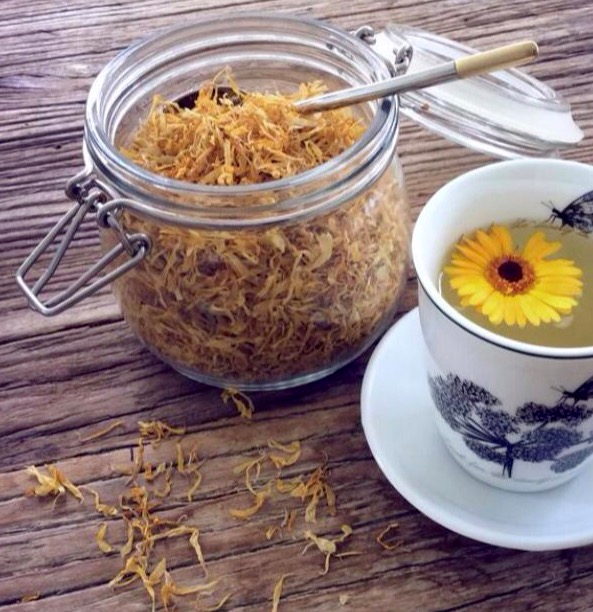 It's about time Brisbane realised it was winter! Cool weather means it's time for snuggles, warming soups and endless steaming cups of tea. Tea is a great way to warm up the body and energise your inner goddess! I have a love of all tea types! Fruity, spicy, traditional you name it, there's something so sensual and soothing about the whole tea drinking process. And whilst the cool change is a pleasant welcome I can't say the same for those nasty cold and flu bugs!
While there are people that don't like the taste of calendula tea I relish it for all its medicinal magic! Amongst all the prescription cold and flu remedies out there, calendula is a popular natural remedy used to assist in soothing a sore throat, relieving congested sinuses and fighting those pesky winter bugs. Calendula also possesses impressive anti inflammatory capabilities making it a potent remedy for inflamed bodily tissues like diaper rash, skin conditions such as eczema and wound healing. Other healing benefits of calendula include:
– Preventing dental cavities. The antibacterial properties of calendula makes for a very effective mouthwash, killing the unwanted bacteria that cause gingivitis and cavities.
– Improving the skins appearance. It's potent antioxidant content protects the skin, reducing the signs of wrinkles and visibly reducing a scars appearance. Whilst drinking the tea will provide you with that youthful glow, applying it to your skin in a form of a cream or simply a cooled tea mixture will smooth out uneven skin.
– Protecting those beautiful gems! Calendula contains beta carotene, an antioxidant compound that does wonders for the eyes.
– Reducing menstrual cramping. This powerful flower holds amazing anti-spasmodic properties, meaning a welcomed reduction in bodily spasms such as painful menstrual cramping, stomach and muscle spasms.
To make a cup of warming peppery calendula tea simply steep 2 tsp. of dried flowers in a cup of hot water (not boiling) for 5 minutes, strain and enjoy!
Nutritionally Yours,
Veronica