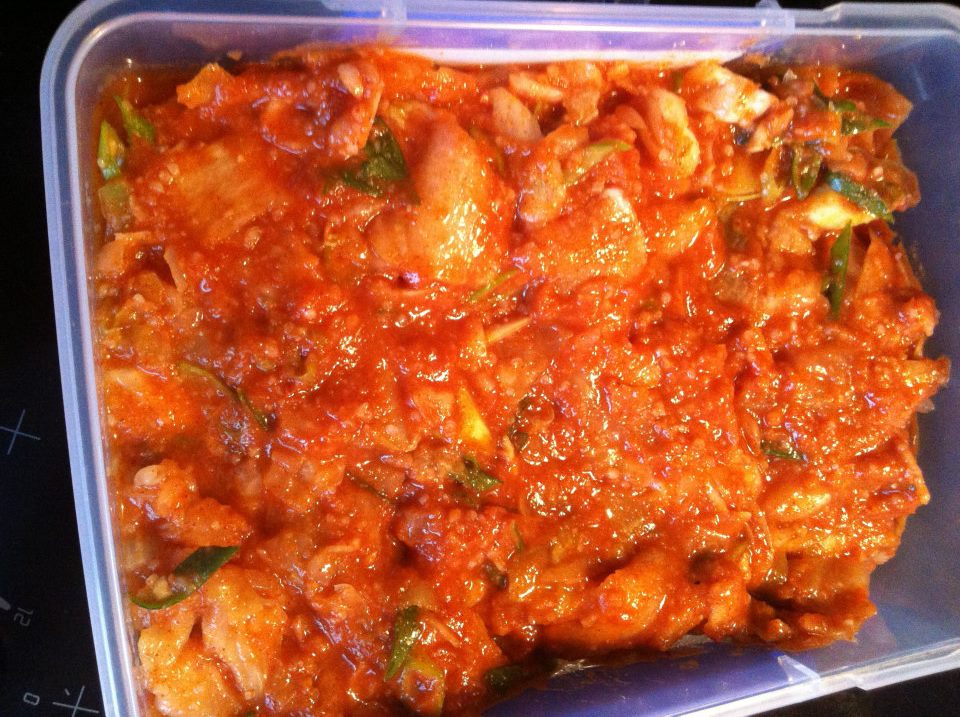 Try out this recipe made by our Fermenting Chef Bec
Kimchi:
Ingredients:

1 head of Cabbage (1.5kg), I used Nappa, cut into bite sized pieces
8 cups of water
1 ¼ sea salt
1 cup of sliced daikon radish
4 spring onions, cut into batons
1/2 teaspoon of NuFerm's Probiotics
Kimchi Sauce:
Ingredients:
1/2 onion, cut into chunks
1/2 an apple, cut into chunks
1/3 cup of cooked rice
2/3 cup Korean chili
1-2 tbsp. shrimp paste
2-3 cup water or seafood stock
2 tbs sugar
5 garlic cloves
1 thumb size price of ginger grates
Method:
Dissolve the coarse sea salt with the water in a very large shallow mixing bowl or in the sink.
Add the cabbage slices and toss to mix. Press top so the solution will seep through the cabbage.
Soak the cabbage for 1 hour in the solution, toss so the top side will go down to the bottom and let it soak for another 45-60 minutes until the cabbages are well wilted.  Add Probiotics to start fermentation.
Rinse the cabbage 3 times and drain very well. You might need to press the cabbages firmly to remove the extra moisture.
To make sauce, place onion, garlic, ginger, apple, and rice in a blender. Add the water or stock and puree until smooth. Transfer the puree into a medium size mixing bowl and add the rest of the filling ingredients, mix well. Let it sit for 10 minutes so the chili flakes will absorb the moisture.
In a large mixing bowl, combine drained cabbages, and green onion. Add 1/2 of kimchi filling first and toss everything very well. You might need to add the rest of the filling if your kimchi doesn't seem to be red enough.
Taste your kimchi and adjust seasoning by adding more salt. It should taste a little saltier that you would hope for. Transfer your kimchi into the storage container in the fridge.
Pour 1/2 cup of water to the mixing bowl that you made kimchi in, swirl around to wash the filling and pour over to your kimchi.
Serve this kimchi on the same day you made to enjoy the fresh taste or let it sit on the room temperature for 1 day to ferment, then store in the fridge and consume within the next 1-2 month.