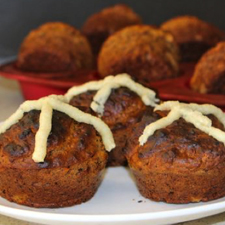 These Hot Cross Muffins are super simple to make, and a healthier option to the supermarket variety. Pop some in the oven to share with your family this Easter!
INGREDIENTS
1 cup almond meal
3/4 cup arrowroot
1 cup dates
1/4 cup apricots
2 teaspoon cinnamon
1/2 teaspoon ginger
1 teaspoon baking soda
2 tablespoons apple cider vinegar
3 eggs
pinch of salt
2 tbsp oil (olive, coconut or butter)
2 tbsp chia seeds
1/4 cup water
DIRECTIONS
1. Preheat oven to 180º
2. Soak chia seeds in the 1/4 cup of water
3. Chop finely  1/4 cup dates and the apricots and set aside
4. Put the remainder of the dates and all other dry ingredients into the food processor & blitz until the dates are well broken down
5. Into a mixing bowl pour the dry ingredients and chopped dates and apricots
6. Beat eggs, soaked chia seeds, apple cider vinegar and oil until well combined
7. Combine with dry ingredients until well combined
8. Put mixture into muffin tin and bake for 20 – 25 minutes or until firm
9. To make the cross – While the buns are cooking in the oven make a white paste out of 1/4 cup of almond meal & a couple of table spoons of water, or until it is a firm paste that you can pipe onto the buns
10. Place paste in a plastic zip lock back & cut a small corner of the bag so that you can pipe the cross onto the buns
11. Pull out of the oven & bag the cross onto the buns with the almond meal paste
12. Just before the buns are cooked pull them out of the oven & pipe the cross onto the top
13. Place back in the oven for a further 3 minutes
14. This recipe makes approx 8 good sized hot cross buns
15. This would also make a great  fruit loaf if it is not Easter time.
Thank you to Tania Hubbard
 for the recipe!