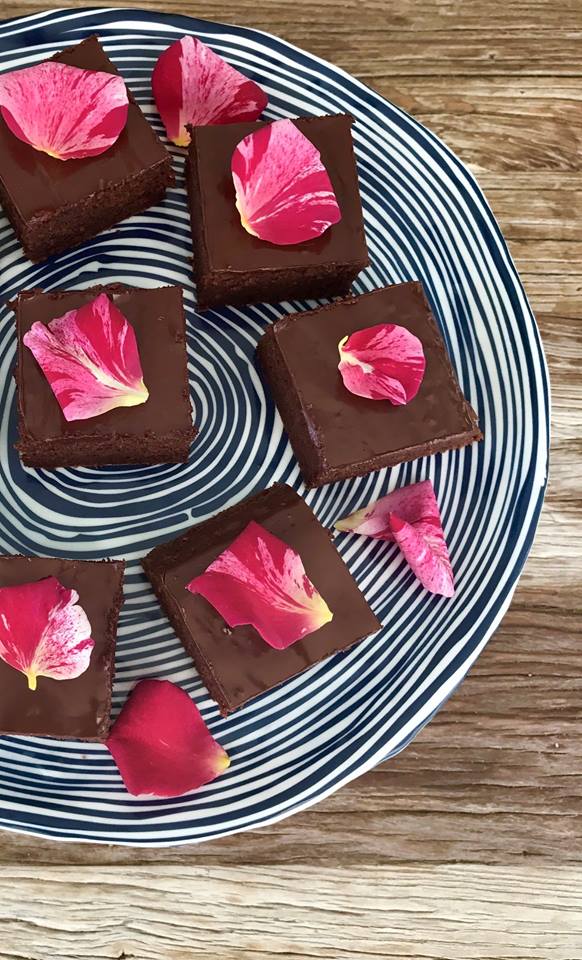 Show your sweetheart some real loving this Valentine's Day with these melt in your mouth gluten free brownie bites! Studies show that regular consumption of unsweenetened cocoa and good quality dark chocolate shield your body's cells against free radical damage, reduces the risk of cardiovascular disease and stroke, acts a potent antioxidant and boosts your mood, creating a sense of happiness and calm! All the more reasons to give the gift of chocolate this valentines day!
200g organic unsalted butter cut into cubes
100g good quality dark chocolate broken into pieces (use at least 80% dark chocolate)
3/4 cup coconut sugar
3/4 cup brown rice flour
3 large free range eggs
3 tbsp filtered water
2 tbsp unsweetened cocoa powder
1 tsp vanilla essence
FOR THE TOP:
50g good quality dark chocolate (use at least 80 % dark chocolate)
1 tbsp unrefined coconut oil
Preheat oven to 170 degrees and line a square baking tin. Place a heat proof bowl over a saucepan of water. Turn on heat and in the bowl add the chocolate, butter, filtered water, unsweetened cocoa powder and whisk until melted, smooth and creamy! Leave aside to cool slightly. In another bowl add the coconut sugar, eggs and vanilla essence and mix on high with hand held beaters or a high speed mixer for 5 minutes until light and fluffy. Pour the chocolate mixture along with the brown rice flour and whisk until all combined. Pour into tin and bake for 20-25 minutes being careful not to over bake as it may be more dry. Allow cake to cool in tin for 10 minutes then turn out. Cool completely before pouring over the chocolate glaze.
To make the chocolate glaze simply use the same approach to melting the chocolate as above. Place a heat proof bowl over a saucepan of water until melted, turn off heat and whisk in coconut oil. Spread evenly over the top and place in fridge for about 10 minutes until semi hard and cut in squares and your done!
Nutritionally Yours,
Veronica