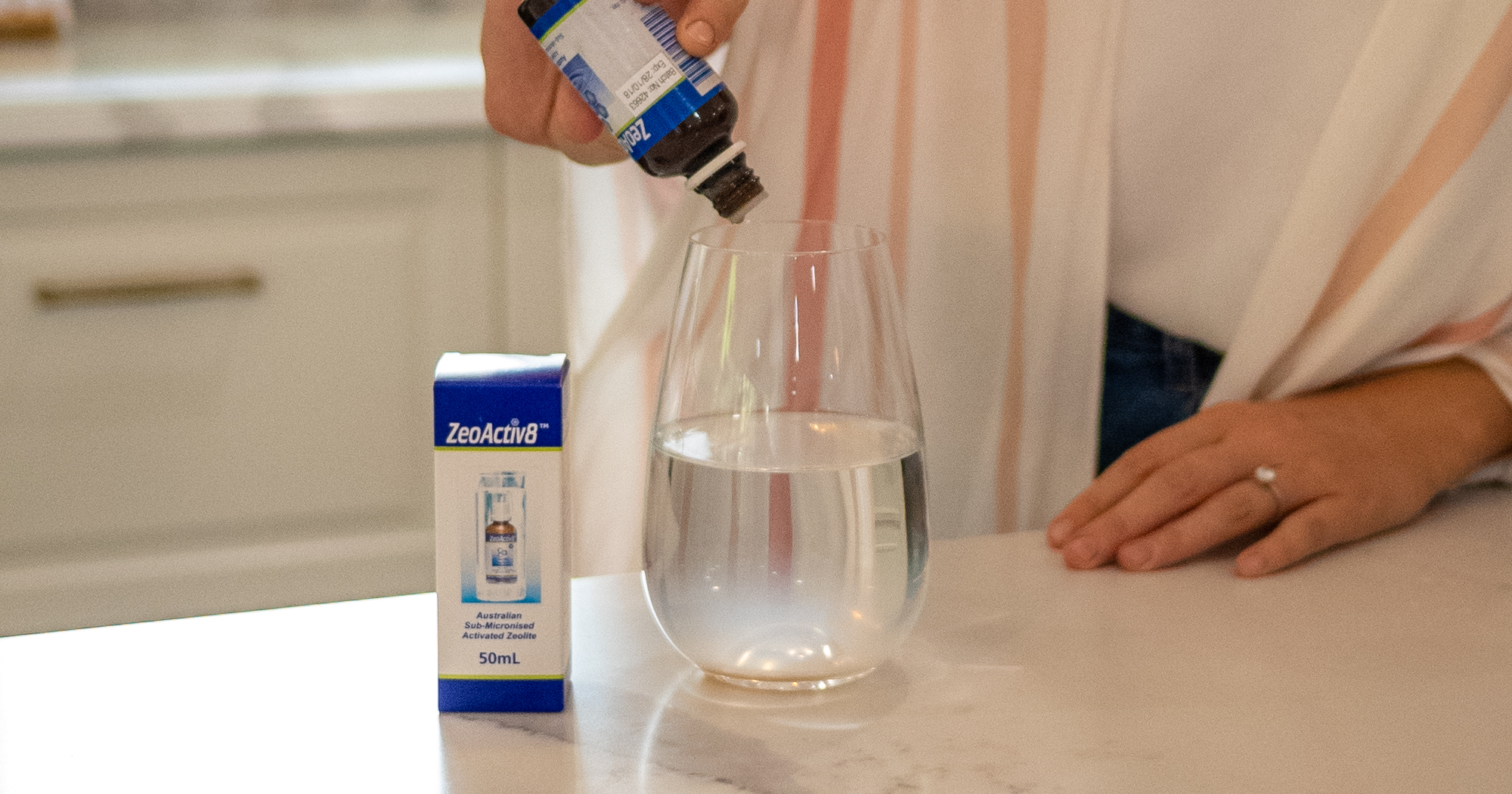 Although you may have never heard of zeolite before it has been known and used since Greek and Roman times as a natural body cleanser however what makes zeolite different today is it is in a 'submirconised form' and the best thing is some of the purest forms of zeolite are found right here in Australia. 
Here at Nuferm we stock and recommend natroceuticals zeolite products which are not only a product of Australia  but are from a pure source of the mineral. The zeolite used was only located in 2001 and is over 330 million years old and has remained undisturbed for all of that time until now!
But how does zeolite work and what exactly is it? Lets take a look! 
What is Zeolite?
Zeolite is a naturally occurring mineral that was formed when volcanic ash fell into alkaline shallow lakes millions of years ago. Over 5-10 million years the wet ash was compressed to form a hard rock formation. When examined under a microscope zeolite can be seen to have a honeycomb structure that is almost sponge like with thousands of microscopic cells that are negatively charged. The combination of the negative charge and honeycomb structure give it the ability to safely draw in and trap 'positive' charge fluids to collect, filter and extract many different organic compounds and metals from fluid from out body.
Who is zeolite suitable for?
Everyone!!!
In today's toxic world we are exposed to a range of heavy metals, chemicals, petroleum, pesticides, solvents, radiation, smoking, preservatives, fluoride, processed foods the list really does go on! All of which can impact us in so many ways we may not even comprehend for example through the skin in the beauty products we use or through radiation of the treatments we receive. Over a period of time and repeated exposure this inorganic matter can accumulate and in turn undermine our health and wellbeing dramatically.
To gain optimal health it is important to maintain a healthy functioning immune system and rid our bodies of any lingering toxic matter. Not only can an accumulated amount of toxic waste stop us from absorbing nutrients from the foods we eat it but it is a leading factor in disease. Zeolite is scientifically proven to filter, collect and purify within the intestinal system of the body and flush out this inorganic matter through our bodily fluids.
 You can read all about the studies that have been conducted on the nutraceuticals website > here
How do I know if I would benefit?
Most of us may not even realise that we have a build up of toxic/chemicals in our body but chances are we all do. Our
H
air Mapping Service
can help to identify anything that may be lingering within and impacting your health of which needs to be cleared with the help of our Zeolite products 
zeoactiv8
or 
zeonutrient+
The benefits from zeolite are not only that they rid your body of harsh toxins but there is so much more to this little gem!! In fact it would have to be one of our favourite products for a first aid kit!
That is because it has so many uses! Not to mention the testimonials from our customers on the benefits of taking zeolite for a number of different reactions/symptoms.  Here are just some of the amazing benefits our customers have experienced when taking the zeolite products.
(please note these are experiences from our customers and we encourage you to only use this as a guide, please contact the manufacturer if you have any questions on the below for more information)
HISTAMINE RESPONSE:  bee stings, bug bites, mosquito bites, hay fever, allergies you name it! Just a few drops in a glass of water of either zeoactiv8 or zeonutrient+ has been known to supress the histamine response of many of our customers as well as aiding allergy symptoms.
" My daughters hands flared up with blistered hives, they were very itchy and upsetting.  Within 30min of taking the Zeo , the inflammation and itchiness settled and with daily use for a few weeks the hives settled down " Mia
SKIN ISSUES:
Dermatitis/eczema has been known to clear up after daily use over a few days.
"  I was experiencing an eczema like rash on my hands/wrists in times of stress, a few drops of zeoactiv8 in a glass of water each day cleared it right up! I couldn't believe it within a week my hands were clear " Hannah
FOOD POISONING: This would have to be a game changer for sure! There is nothing worse than the unexpected arise of diarrhoea and vomiting and we have so many stories that we could share but that would just be way to much information! But trust us a few drops of this magic potion has had us back on our feet so much quicker! Without going into too much detail, after consuming zeo (when safe to do so haha) one more uncomfortable 'episode' is usually experienced a short time after but this is a good thing! It is eliminating any yucky bits that have entered your body and eliminating them in its honeycombe structure.
How do you consume Zeolite?
We offer 2 different zeolite products here at Nuferm ( Zeoactiv8 & Zeonutrient+ ) both of which are equally as valuable and both containing the same pure Australian clinoptilolite zeolite which has been submicronised to an average particle size of 0.8 of a micron. The sub-micronisation process of our zeolite increases its surface area over 100 times enabling it to be very effective in its ability to draw in the heavy metals, inorganic compounds and toxins that the body cannot dispose of itself. It is suspended in a base of pure distilled water and natural preservatives.
THE ADVANTAGES OF ZEOACTIV8
Unique honeycomb structure which has a natural negative charge.
Attracts positive charge heavy metals, inorganic compounds, radiated particles and toxins and traps them inside its honeycomb structure.
Its cation exchange ability releases calcium, magnesium, potassium and sodium into the body.
Comes in a safe 50mL glass bottle with dripped cap containing 720 drops.
Increases the body's pH which makes the body fluids a hostile environment for yeasts, moulds, fungus, parasites and bacteria.
The zeolite is submicronised increasing its active area over a 100 fold but is completely inert when ingested.
Passes naturally out of body.
THE ADVANTAGES OF ZEONUTRIENT+ 
The same great advantages of zeoactiv8 only it also contains the added benefit of Pro-Vitamin A and Vitamin E. These two supplements together carry and release characteristics of Zeonutrients activated, sub micronized Zeolite.
We recommend Zeonutrient+ for everyday long term usage.
DRINK PLENTY OF WATER OR FLUIDS
You will need to drink far more water than usual when taking ZeoActiv8 or Zeonutrient+ as it has a dehydrating effect. As the ZeoActiv8 or Zeonutrient+ works, it absorbs not only the positive charged particles, free radicals and other compounds, but also will trap and remove a large amount of liquid. Be sure to up your water intake.
FAQ
HOW MUCH DO I NEED TO TAKE?
As a general guide depending what you are using the zeolite product for, start with taking 3 drops of zeoactiv8 or ZeoNutrient+ in a glass of water at least 2 hours before and 2 hours after dinner in the evening. After 1 week increase to 5 drops in the morning and evening.. Please note the smaller the body weight the lower the dose should be. Please contact us or your practitioner for guidance if you are unsure how much to take.
WHAT IS THE DIFFERENCE BETWEEN ZEOACTIV8 AND ZEONUTRIENT+?
Both contain the same Australian Zeolite. The difference between the two are that Zeonutrient+ also contains the added benefit of Pro-Vitamin A and Vitamin E.
IF I TAKE ZEOLITE WHAT WILL I NOTICE?
You should experience a better balance in pH levels throughout the body which will then allow your natural immune system to work harder and better for you.
HOW CAN THE ZEOLITE PRODUCTS REMOVETOXIC METALS SUCH AS LEAD AND MECURY BUT NOT HEALTHY ONES SUCH AS CALCIUM AND MAGNESIUM?
Zeolite's ability to attract and bind different substances is based on the size, shape, and electrical configuration of its molecular cages. Zeolite's greatest affinity is thought to be with heavy denser metals, especially mercury, cadmium, lead, and arsenic which carry higher positive charges.
Lighter metals such as calcium, magnesium, and phosphorous have larger ions, and so their affinity to zeolite's negative charge in order of magnitude is much less. Zeolite introduces minerals such as calcium, magnesium sodium and phosphorous which are available for the body to utilise.
CAN ZEOLITE BE TAKEN BY PREGNANT OR BREASTFEEDING WOMEN?
Yes as it is nontoxic it does not react with any fluids within the body. It only draws in and eliminates (carries out) positive ions and other toxic particles.
WHAT DOES SUB-MICRONISATION MEAN?
Sub-micronisation Is the process of reducing the size of the zeolite particles from a mine processing size of 40 to 50 microns to an average of only 0.8 of a micron. The process does not involve grinding which would leave small particles of the grinding machinery in the liquid. The sub-micronise process greatly increases the surface area of the zeolite allowing it to absorb far more particles than if it were not sub-micronised.
SHOULD ZEO BE TAKEN WITH FOOD OR ON AN EMPTY STOMACH?
It is better to take ZeoActiv8 about two hours either side of normal meals. The reason is that the food will make it more difficult for the positive cations to find the zeolite. We suggest that it be taken just before bed or first thing in the morning and it would be better not to take it at the same time with other mineral supplements. It is best taken in a small glass of water or juice although it can be taken neat. Remember to increase water intake during the day – up to 8 standard glasses of filtered water.
CAN YOU TAKE TOO MUCH?
Zeolite is similar to all other vitamins and mineral supplements. If you take more than your body can utilise and absorb, the unused liquid will simply pass out of the body naturally. However it is wise to keep dosage levels as recommended by us unless advised by your Medical Practitioner or Health Care Professional that higher dosages are required.